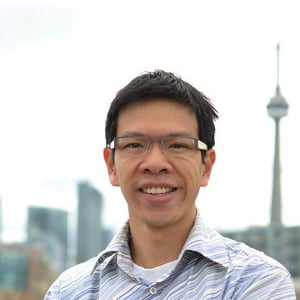 Kevin Wong
---
Biography
I use photography to give back and so accept select wedding and event photography engagements and donate my fees to charity.
I started shooting photography back in the late 80's or early 90's (it's hard to remember now) with an old Topcon SLR. My early inspiration was the usual: a father who liked taking picture of his kids, but also a schoolmate whose father, Sherman Hines, has captured some of the most beautiful images of Canada that to this day I have ever seen.
My early education in photography was guided by a large format fellow — a convenient and fond reference to both his preferred medium as well as his stature. His advice was to invest in a wide-angle lens and a tripod, and indeed that is exactly what I did, and as such my early fascination was in landscape and nature. I also learned that 50% of a photographers work occurs after a picture is taken, in the darkroom. Today the darkrooms are gone, but the concept definitely still applies. As my skills developed I was enticed to apply them in photojournalistic contexts for sports, events, and the like, and it was 1997 when I received my first paid commission. This brought together a new interest in photographing people and a telephoto lens. At the same time I became fascinated by the work of Robert Frank, whose spontaneous and imperfect style captured a raw emotionality which I admired very much, and contrasted greatly with my early studies of Ansel Adams' masterful sharpness and tonal range.
Over the next decade I traveled quite a bit which gave me an opportunity to shoot more exotic subjects. Then in the last few years there was an explosion of weddings around me which renewed an interest in and purpose for event photography in a photojournalistic style. But what finally made me get serious in it was the dismay and frustration I felt all too often watching "professional" wedding photographers do business.
There is an element of creativity and art to photography. However there is also a saying in photojournalism: "f/8 and be there". In non-photo-speak, this basically means being there at the right moment is the most important part of photojournalism. So it is surprising that many photographers who claim to specialize in the popular photojournalistic style don't seem to follow this practice. At an event like a wedding where there is so much going on with so many people and so many emotions, there is no excuse for one photographer and even two not to be busy the entire day shooting virtually non-stop. Yet I constantly see supposed pro's standing around waiting for "something special" to happen. Sometimes they even expect to be notified before an event occurs. As far as I'm concerned, something special occurs every time a guest laughs, a hug is exchanged, or an emotion is shown. Each one of those moments, is an opportunity to capture a powerful memory of the special day. Particularly with wedding photography being almost exclusively digital these days, a good wedding photographer should be discovering these moments at all times.
So when it comes to weddings, I like to start by knowing not so much what the bride and groom want photos of (although that helps), but more how they want to remember the day. Then anywhere specific instructions don't apply, I follow my f/8 and be there philosophy: Start by being anywhere the bride is. Failing that, be where the groom is. If you're getting a "moment-lull" with the bride and groom, go find some moments amongst everyone else. Capture the details. Hair, jewelry, invitations, rings, food, drinks, and so on: chances are someone spent a lot of time getting them just so. Try to be creative. Don't just crank out the same formula every time. Work hard. Be there early, stay late, keep looking for the better angle. Hustle. While I don't have the most experience out there, I can assure anyone I work for that I'll probably "be there" for more moments than almost anyone else out there.
Contact
Location